Attractive, very large red cherry, known for its size and crack resistance. Ripens just before Lapins. Blooms 4 to 5 days after Bing. Requires pollinizer. Such as Regina or Benton.
(PC 7146-8) (USPP Pending) Excellent quality, large fruit with a dark red skin. Harvest the same as Bing or slightly later. Moderate resistance to rain cracking. Rated higher than Bing in taste and firmness. Self-fertile.
A large, firm, juicy fruit with red skin. The best pollen source is Van. Industry's standard cherry.
(USPP #8545)
Large to medium-size fruit with dark red skin and medium red flesh (similar to Bing). Very precocious tree growth with an early harvest. Moderate resistance to rain cracking. The best pollenizer is Index. Chelan is known to have better winter hardiness than Bing. *Gisela rootstocks not recommended; may be incompatible with Mahaleb rootstock.
(2C-61-22) (USPP Pending)
Fruit is heart-shaped and large to medium-size with an attractive dark red skin. Tolerant to rain cracking. Tree is very wide-spreading and harvests 5 days before Van. Best pollenizers are Sweetheart, Bing, Van, and Sandra Rose.
Fruit is large and firm with a sweet flavor and slight acidity. Fine-textured, orange flesh can freckle in wet springs. Tree grows slightly spreading and vigorous. Self-fertile and ripens in early June (just before Patterson).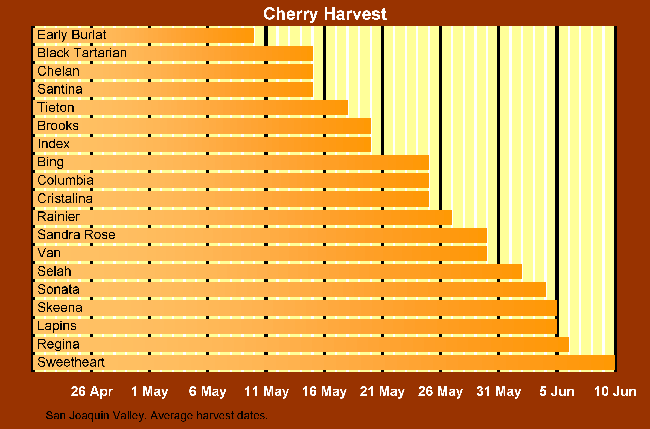 With its large firm fruit, Rainier is considered a top quality "white cherry." Skin is a golden-yellow with a red blush. Large, very productive tree and a good pollenizer. Susceptible to rain cracking.
(USPP #11530)
Selection from Germany shown to be rain cracking resistant. Cherry is dark red, heart shaped and large. Blooms late and ripens between Skeena and Sweetheart. Van will not pollenize Regina.
(13S-5-22) (USPP Pending)
Oval-shaped fruit, slightly larger than Bing with similar firmness and good flavor for an early cherry. Mahogany skin has a bright lustre. Early harvest and moderately tolerant to rain cracking. Self-fertile.
Average-size, very firm, round fruit with attractive red skin. Tree is spreading and upright. Tolerant to rain cracking, a heavy producer. Self-fertile and an excellent choice as a pollenizer. Blooms early for an extended period of time.
(USPP #11385)
Very large fruit (10 to 14 grams) with mild flavor and export quality firmness. Dark red skin. Very early harvest. Gisela rootstocks are suggested to increase cropping potential.
Excellent quality fruit is slightly smaller with dark red skin. Resistant to rain cracking. An excellent pollenizer for most varieties; in particular, Bing. Highly productive variety.
Gisela® 6, Gisela® 12, KRYMSK®#5 (VSL-2cv) USPP#15723, KRYMSK®#6 (LC-52cv) USPP#16114